The Page Setup preferences tab offers a number of advanced controls over how Worship LIVE! prints. As you make changes, the results will be illustrated for you.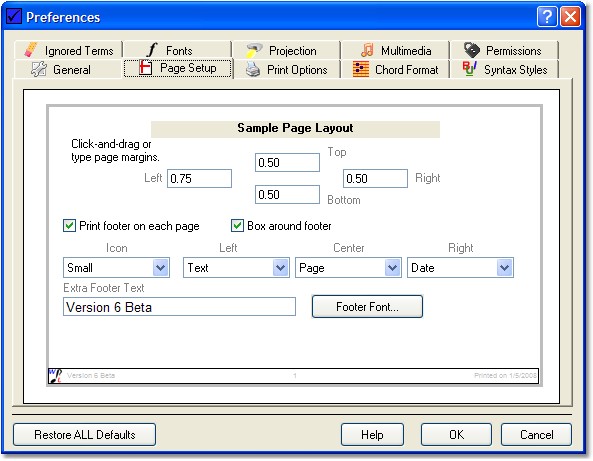 Print footer on each page: if unchecked, the usual footer will be skipped.
Box around footer: if unchecked, the usual box around the footer will be skipped.
Icon: you can select from no icon, or a small or large version of the Worship LIVE! icon. You can also select your own custom icon or picture to print in the footer. If you select a custom picture, whatever you specify will be resized to fit the same size as the Large Worship LIVE! icon.
Left, Center, Right: You can specify what gets printed in the footer. The choices are Text (whatever is shown in the text box below this dropdown list), Page (the page number), Date (the current date), CCLI (the CCLI License Number from the General preferences), Text/CCLI, Page/CCLI, Date/CCLI, and of course (blank) for nothing in that location.
Custom Footer Text: If you enter custom text here, it can be printed in the footer by selecting Text or Text/CCLI from the dropdown lists.
Font: this selects a font style for the footer printout.
Margins: You can change the margins Worship LIVE! uses by clicking and dragging the margin lines until they are in the proper location.