There may be times when you wish to project a simple message without the trouble of creating a new song or announcement, and you don't want the bare-bones style of a Visual Page message. In this case, use the Custom Text tool.

The dialog is very simple: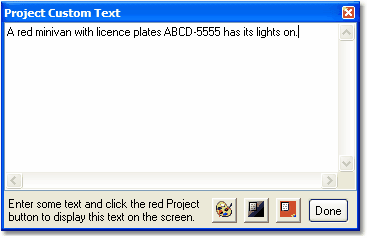 Enter the text you wish to project, and then click the red Project button to show it using the default formatting on the projection screen. If you wish, you may customize the format with the palette icon. You can also blank the screen directly from this dialog.

When you're finished, click the Done button to close this dialog.

The custom text tool will always remember your most recent message and include it in the text area.